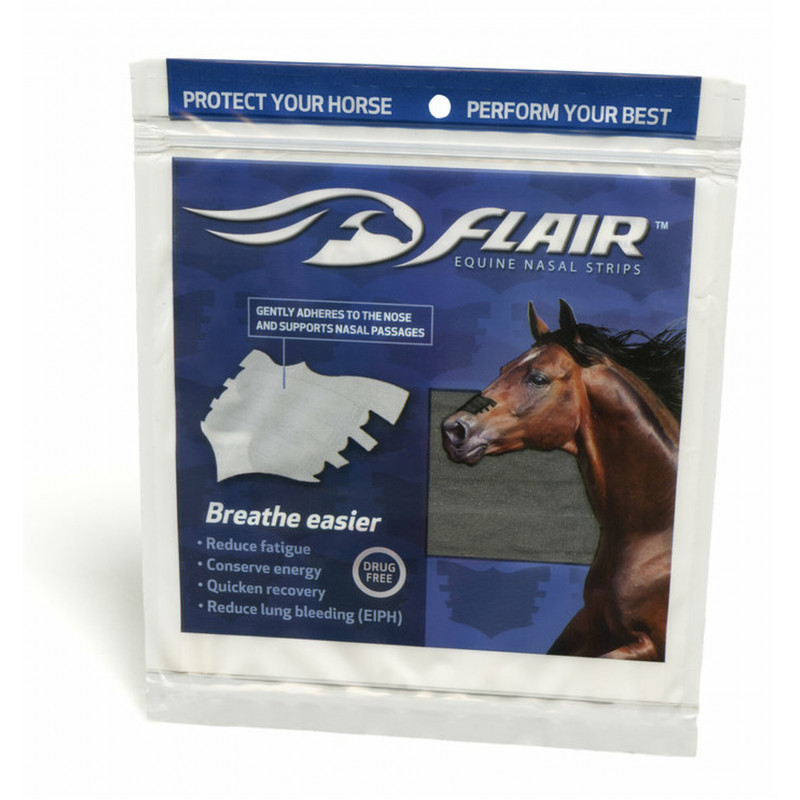  
FLAIR Nasal Strips - Black
FLAIR Equine Nasal Strips reduce fatigue and impruve respiratory health in horses.
Real time:
1
Visitor right now
http://www.youtube.com/watch?v=q9RHgmfua20
FLAIR Strips are self-adhesive strips that promote optimum respiratory health of equine athletes at all levels by reducing airway resistance and providing improved airflow when your horse needs oxygen most.
FLAIR Strips provide benefits for all horses including intensively trained horses as well as for horses that only exert themselves during occasional weekend competitions or trail rides.
During exercise when horses begin to breathe hard the soft tissues overlying the nasal passages are sucked in, reducing the airway diameter. This reduction in diameter causes greater resistance to airflow into the lungs. FLAIR Strips gently support the soft tissues over the nasal passages providing reduced airway resistance during exercise.
By reducing airway resistance during exercise, FLAIR Strips help prevent fatigue related injuries, help protect the lungs from injury and bleeding and promote optimal athletic performance.

DIRECTIONS
Clean and dry the muzzle thoroughly. (Oil, dirt and moisture will reduce adhesion.) Apply 30 minutes before exercising the horse.
Place bottom edge at Positioning Guide at top of nostrils as indicated by arrows on packaging. Press down to adhere strip.
After removing Positioning Guide, rub strip to secure adhesive. For Single Use Only.



To remove:

Pull gently but firmly from the top corner toward the middle.Do not remove by pulling up or down. Adhesive may cause slight loss of hair similar to that experienced with shedding.

PACKAGING
Sold individually in a single package for better product preservation and grip.
You might also like
More trainers trust Red Cell® to fuel their champions than any...
FLAIR Equine Nasal Strips reduce fatigue and impruve...
No customer reviews for the moment.